Hello, How Are You? is a campaign about connection and engaging in open conversations about mental health. The campaign asks individuals, communities, workplaces, friends & family to say Hello and ask the question 'How Are You?' in a meaningful way. Asking this small question and having one conversation can make a real difference in someone's life. Creating, maintaining and staying connected with others helps tackle loneliness, creates a sense of belonging and purpose and builds relationships.
You don't need to be an expert to have a meaningful conversation. By using the HELLO Steps you can feel supported in asking the question. Let's make saying Hello and asking How Are You? an everyday question that keeps us connected.
­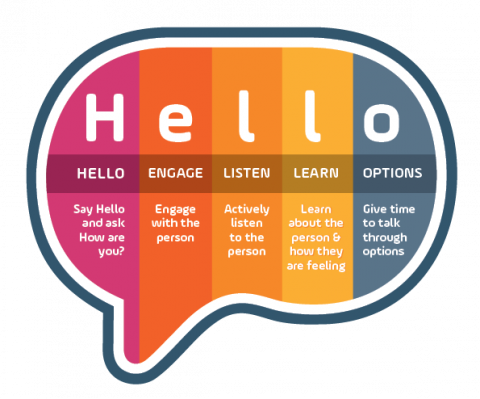 ­
Mental Health Ireland are leaders in mental health promotion in Ireland. Mental Health Promotion is a priority area of our Strategy 2022-2024, Mental Health For All: Hope, Strength & Action, which states that we build mental health awareness and understanding through campaigns, training programmes, resources and information. Hello, How Are You? is a powerful mental health promotion campaign which supports people to confidently connect with others and to have open conversations about mental health and wellbeing. The campaign also supports empowerment through the provision of reliable information on mental health support services and signposting which can encourage early help-seeking.
­
Mental Health Ireland anticipates this campaign:
Improving awareness & understanding of mental health

Normalising and increasing confidence in starting conversations about mental health

Reducing loneliness and enhancing connections for people

Expanding signposting to services

Creating a greater sense of community

Leading to earlier help-seeking / help-finding
­
Phoenix
Phoenix Clubhouse supported the national Hello how are you campaign on April 7th by running 2 public events on the day. To raise local awareness of our events for the campaign; Phoenix went to Clondalkin village on April 6th and spoke to local businesses about how Phoenix Clubhouse was supporting this initiative and asked for their support, which you can see on the Phoenix Instagram page.
On the 7th Phoenix set up an information stand in Phoenix carpark on Monastery road to inform the local community of the Campaign and to hand out promotional material. Phoenix also had an information stand in the local shopping centre, The Mill. Members and staff spoke to members of the public about the campaign. Thank you to all the businesses and community members that supported Phoenix on the day.
Please follow/share/like us on:
Facebook: www.facebook.com/Phoenix.Clubhouse
Instagram: @PhoenixClubhouseEve
­
­
Suaimhneas
Suaimhneas Clubhouse supported the national Hello how are you campaign on the 7th April by organising a St. Anne's Park Walk. The group gathered at St Anne's Red Stables at 10am. The aim of the walk was to join and connect with each other to celebrate the 'hello how are you' campaign.
Suaimhneas are delighted to be working together with Mental Health Ireland to help open conversations and promote positive mental health events. This campaign encourages us to speak out, say hello, ask neighbours, family, friends, colleagues, or anyone in our community How are you? In a friendly meaningful way! Our aim is to not only to ask 'how the person is doing, but to connect with the person, actively listen, learn, and open important conversations !
'Not all heroes wear capes, we are all heroes that can make a difference!'
Enjoy your day, spread the positivity, say hello and have the chats! We in Suaimhneas Clubhouse are connecting and enjoying the beautiful park!
Check out the video from the day here - www.youtube.com/watch
Check out Catherine Birmingham talking to Near FM here - www.suaimhneasclubhouse.wordpress.com
­